Kea are the world's only alpine parrot, they're found only in New Zealand, and their numbers are estimated to be between 3000-4000.  The population has declined rapidly.
Kea are very cool birds, and I was disappointed to see none of them on my trip through Arthur's Pass this summer.  They seek out interaction with humans, very unusual for wild animals.  Sadly the way that humans interact with kea is one of the things putting them in danger of extinction.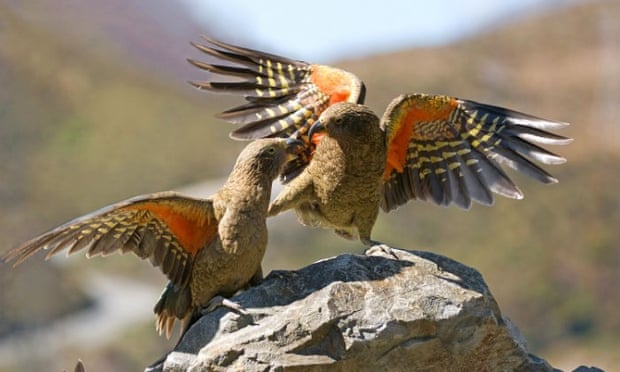 An estimated 150,000 kea were killed from the 1860s onwards thanks to a government bounty introduced after conflict with sheep farmers. DOC and the Kea Conservation Trust continue to record intentional kea deaths each year (either shot, bludgeoned, or poisoned by humans) though targeted kea deaths are thought to be largely under-reported, because they are an endangered and protected species.

"Education efforts have gone a long way towards New Zealanders learning to love and respect the kea, but if the kea cause financial loss or begin to hit people's bottom line, that is when we are still hearing stories of Kea being killed." said (Jack) Kemp.
– the guardian
Predators like stoats, possums and cats were also taking their toll on the kea population.  The Department of Conservation uses 1080 poison as one of its primary methods of controlling these invasive species.  Unfortunately kea also eat the poison.
A juvenile Kea (Nestor notabilis) perching on some rubble on the Franz Josef Glacier, New Zealand. from Wikimedia Commons
Cinnamon-flavoured, cereal food pellets will be spread from the air, twice. The first time they will be just flavoured cereal. The second time, they will contain deadly 1080 poison.
Kea will eat the cereal baits and die. They will also be poisoned if they drink from ponds and alpine tarns where the baits lie, or scavenge poisoned carcasses or eat the dying insects surrounding the poisonous baits.

It was first recognised that the government's poisonings were killing kea in 1963.

In 2008, government monitoring of the kea began.

The monitoring showed that large numbers of kea were dying.
– 1080Science
Unfortunately the practice continues, and over the years various practices intended to minimize consumption by kea have been abandoned.
This has been a sad post to write.  The links above offer info on efforts to save the kea. Have a closer look at 1080Science and their efforts to end the use of 1080.  It would be a great shame to lose these cool and unique birds.